The Manitoba Tomorrow Project will be well represented at the Canadian Cancer Research Conference.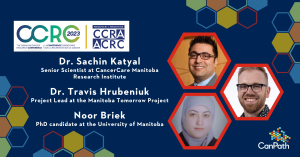 Dr. Sachin Katyal is an Associate Professor at the University of Manitoba, Senior Scientist at CancerCare Manitoba Research Institute, and Director of the Manitoba Tumour Bank. Dr. Katyal is the Manitoba Tomorrow Project representative on the CanPath National Strategic Advisory Council. Dr. Katyal's research interests include using advanced molecular, biochemical and genetic techniques to gain insight into the biology of mammalian DNA strand break repair pathways. 
Dr. Katyal will be chairing a session on Clinical Innovations in the Real World with Patient Partner Ruth Ackerman on Monday, November 13th at 2:40pm AST. Speakers include  
Dr. Tony Reiman (Beatrice Hunter Cancer Research Institute, Dalhousie University, University of New Brunswick) speaking about multiple myeloma and patient partners

 

Dr. Sheila Singh (Cancer Research Centre, McMaster University) speaking about clonal evolution in recurrent medulloblastoma

 

Dr. June Carroll (Faculty of Medicine, University of Toronto, Granovsky Gluskin Family Medicine Centre, Sinai Health) speaking about primary care strategies for hereditary cancer risk

 
Dr. Travis Hrubeniuk is the Project Lead at the Manitoba Tomorrow Project and an Assistant Professor at the Max Rady College of Medicine, Community Health Services, University of Manitoba. Dr. Hrubeniuk's research interests focus on the relationships between, and the impact of various levels of physical activity, exercise, and sedentary behaviour on cancer and chronic disease throughout the lifespan and the subsequent influences on public health policy. 
Dr. Hrubeniuk will be presenting a poster on the Manitoba Tomorrow Project as a cohort built for cancer research. Posters will be up for the duration of the conference and during viewing sessions on Sunday, November 12th from 12-1:30pm AST and Monday, November 13th from 1:10-2:40pm AST. 
Noor Briek is a PhD candidate in the Department of Community Health Sciences at the University of Manitoba with an interest in population health and a primary focus on cancer epidemiology and pharmacoepidemiology. Noor is also a Research Assistant with the Manitoba Tomorrow Project and has rich practical experience as an international pharmacist since 2003 and a registered pharmacist (RPh) in Manitoba since 2010. 
Noor will be presenting a virtual poster on their dissertation work linking drug data from the Manitoba Tomorrow Project Cohort and Administrative Health Databases: Advancing a Long-Term Health Research Platform for Cancer Research. Virtual posters will be accessible via the conference platform to all registered delegates via the virtual poster hall.