Dr. John Lewis is a Professor in the Department of Oncology at the University of Alberta and the Bird Dogs Chair in Translational Oncology. Dr. Lewis' research interests include translational prostate cancer research, and the Lewis Lab utilizes real-time intravital imaging of the tumour microenvironment to learn about the critical steps of cancer progression, including the growth of new blood vessels and the gain of tumour cell motility that leads to metastasis.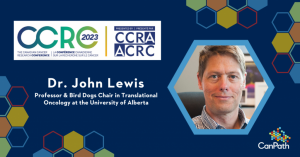 Using CanPath data, Dr. Lewis created predictive models for diseases using a standardized data analysis platform. These models offer insights into the factors that increase the risk of developing a particular disease.
The platform, which has demonstrated superior accuracy in predicting prostate cancer compared to existing models, can now be applied efficiently to predict a range of diseases like cancer, heart conditions, lung diseases, diabetes, and neurological disorders using CanPath questionnaire data.
Learn more about how the Lewis Lab uses CanPath data: https://canpath.ca/2022/10/webinar-november-2022/.
Dr. Lewis will be presenting at the conference plenary on AI Across the Research Spectrum on Sunday, November 12, at 4:10 pm AST. Dr. Lewis will be speaking on the development and commercialization of machine learning models to predict disease.